The Christmas festivities are over- the wrapping, cooking, baking, unwrapping, indulging, and cleaning up what's left- and maybe, just maybe you're ready for a bit of TLC. If that's the case, how does a hot bath sound with the added incentive of a homemade bath recipe perfect for easing the last of the stress away?
Image from Pinterest
I used to add perfume to my bath water before I learned that it cannot bind to water and therefore is useless to scent the water. From then on, I would add a few spritzes to a teaspoon or so of baby oil. I don't recall if it scented the water, but it sure felt delicious.
Below are some fabulous recipes to try in your bath. So take a half hour, mix up a recipe to pour straight into your hot bath, sink into the enveloping warmth and soak your cares away for just a few minutes. Of course, an hour never hurt anything either.
Chocolate Eclair
16 oz. epsom salts
1 tsp. cocoa powder
Lavender Dream
16 oz. epsom salt
several drops of lavender oil
Essential Oil Illusion
1/2 cup baking soda
several drops of your favorite essential oil
Enjoy!
{Note: essential oils may cause skin sensitivity. Always use as directed and don't use if you have high blood pressure, are pregnant or have other medical concerns.}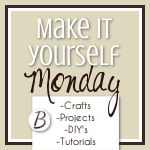 Linking up with some of the following: Making Your Home Sing Monday @ Mom's The Word, Weekend Warrior Mondays @ Ask Anna, What's In The Gunnysack?, Dittle Dattle, Ninth Street Notions, So Creative Party Time, More The Merrier Monday, Meet Me Monday, Bedazzle Me Monday, Show It Off, Teach Me Tuesdays, Domestically Divine Tuesday, Titus 2sday, Gratituesday, Tackle It Tuesday, Yesterday on Tuesday, Raising Homemakers, Deep Roots At Home, Sweet Peas & Bumblebees, Women Living Well Wednesday, Works-For-Me Wednesday, Ginger Snap Crafts, Proverbs 31 Thursdays, Little Natural Cottage, The Shabby Creek Cottage, The Artsy Girl Connection , At The Picket Fence, Like a Bubbling Brook, Whipperberry, Head-To-Head Showdown